Hope you enjoyed page 1, now for some more!!
Heres some great pics from Frank Love, see his site at www.retrostox.co.uk for pics of other formulas from the era.
The pics here are from the 1982 Hot Rod British Championship, Barry Lee 351 even visited back then, and what a great crowd. Click the pics for a large version.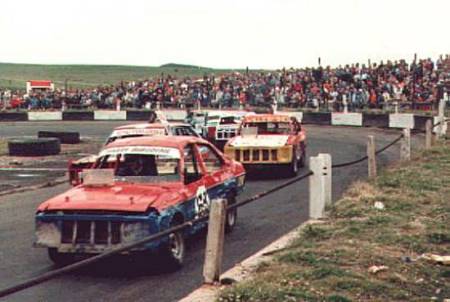 High Edge was always known for hosting many formulas, this pic is the Saloon Stox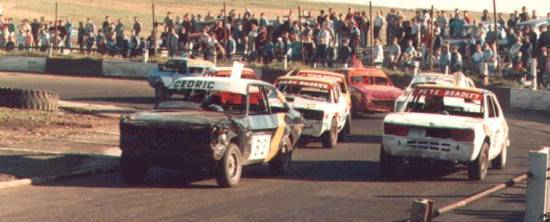 Here we have the popular Stock Rods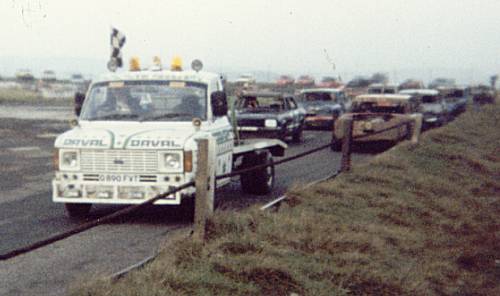 Who remembers this Transit?? it used to lead the cars round on the rolling lap, take the winners round, and get rid of broken down cars from the track too, I remember it being driven by a man who looked like 'Freddy Boswell' off TV comedy 'Bread'


Saloon Stox and 270 is Keith Burgess of the 'Ashwood Alcoholics'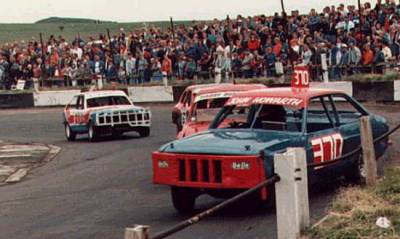 370 John Howarth in Saloon Stox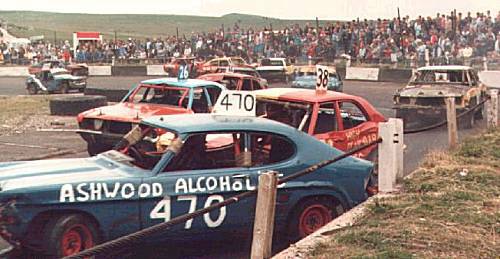 Bomber action here, with another of the Ashwood bunch, 470 Pete Corbett - still racing today, could that be 38 John 'Killer' Kinghorn behind??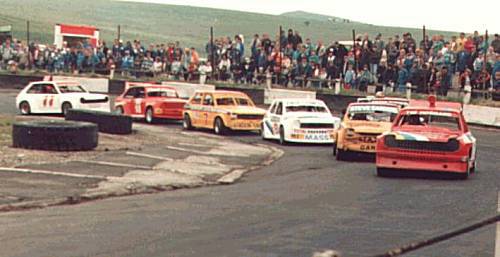 Hot Rod action from the late 80s, all those Starlets!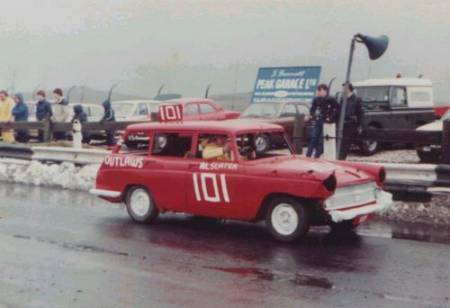 The weather at the track was always a talking point at Hi Edge, here we are with Outlaw driver Al Slater with snow on the track in summer I am told!!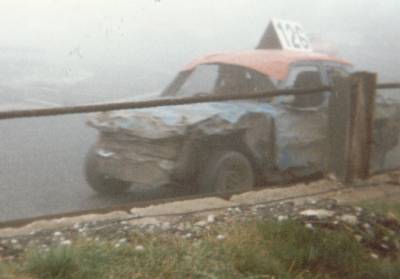 Bomber 126 Daryll Wright here, just look at the fog you cant see far, Bombers were under 2000cc cars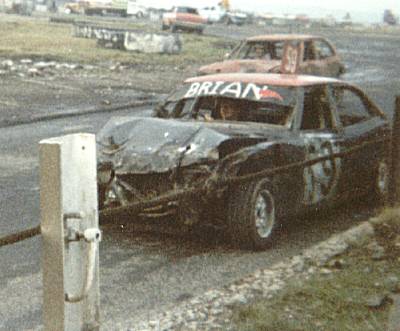 59 Brian Heywood here in a Cortina Bomber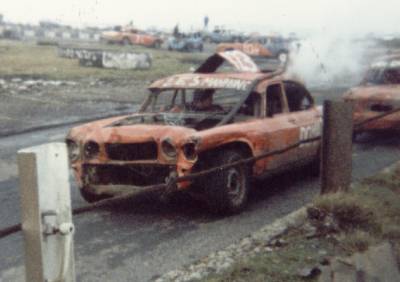 These were the bigger formula of Bangers, mainly consisting of big Jags like this one from Les Manning, note the up and over exhaust pipe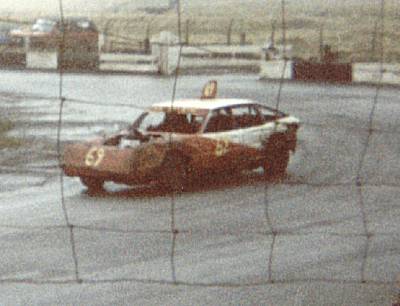 circa 1988, could this be a Superbanger??
Unfortunately, there is a lack of photos from 1988 to the 2000's, can you help?? email website@buxtonraceway.com
Added 16 Nov 09: Some pics added thanks to Lee Fearnley and Les Hoyland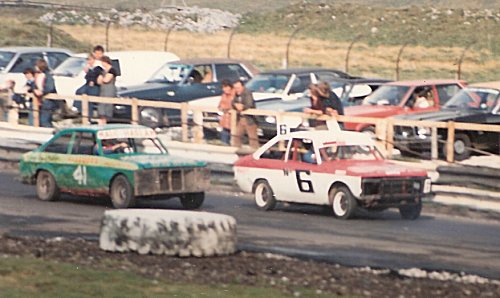 Stock Saloons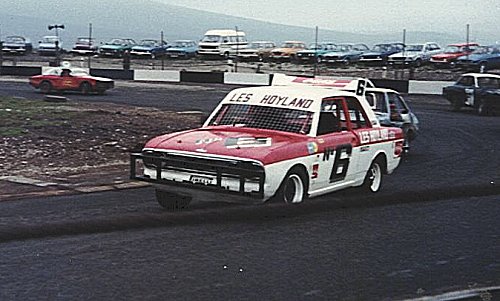 Les Hoyland Stock Saloon

Russ ? Fearnley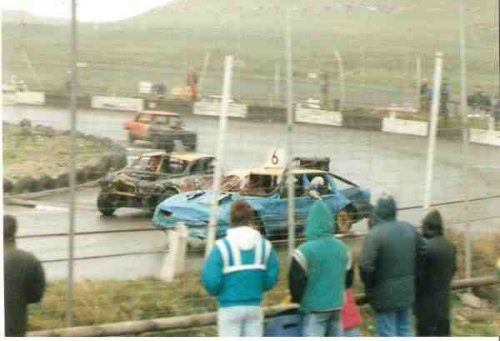 Banger [could be Superbanger] of Russ Fearnley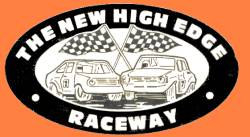 In 1998, High Edge Raceway became 'Buxton Raceway' under the promotion of Dave Pierce, who had been involved with the High Edge promotion previously and also at Bolton. From then on under the Buxton Raceway banner the stadium has gone from strength to strength, gone are the days of races with just 2 or 3 cars, the seasonal fixtures see local and national formulas with very full grids of cars, and each meeting is run to the highest standard of organisation and adhering to all health and safety issues.
In 2005, Buxton Raceway hosted a "Banger old Boys" meeting and many of the drivers from these pages who were just about "still in the game" were out on track for one last time, CLICK HERE to see the pics.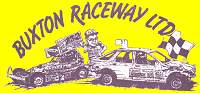 Thankyou for reading, we look forward to getting any more photos to add to this online collection.
2021: Sadly Dave Pierce died from cancer related issues in October of 2021, although Dave retired from promoting in around 2011, he continued behind the scenes at the office working on the accounts side of things, he eventually gave it up completely in February 2020. DP was involved with the Churnet Valley Railway near Leek. DP was a true gentleman who was well respected and will be very much missed by all who knew him.